When Blu Pointe first opened in April 2015, we realized there was an opportunity to create one of the elite competitive wine programs north of New York City. As a team, we knew the elegance and romantic ambiance needed a wine list; not only to match the setting, but to create perfect harmony among all of our delectable menu selections. We strive to create a distinct list that would attract those who live in the area, but also appeal to clientele from every corner of the world. Our final list contains selections from thousands of wines sampled and analyzed that best fit our concept.
Our New and Old world selections portray some of the finest producers in various respective regions, including smaller labels that produce phenomenal wines less commonly known.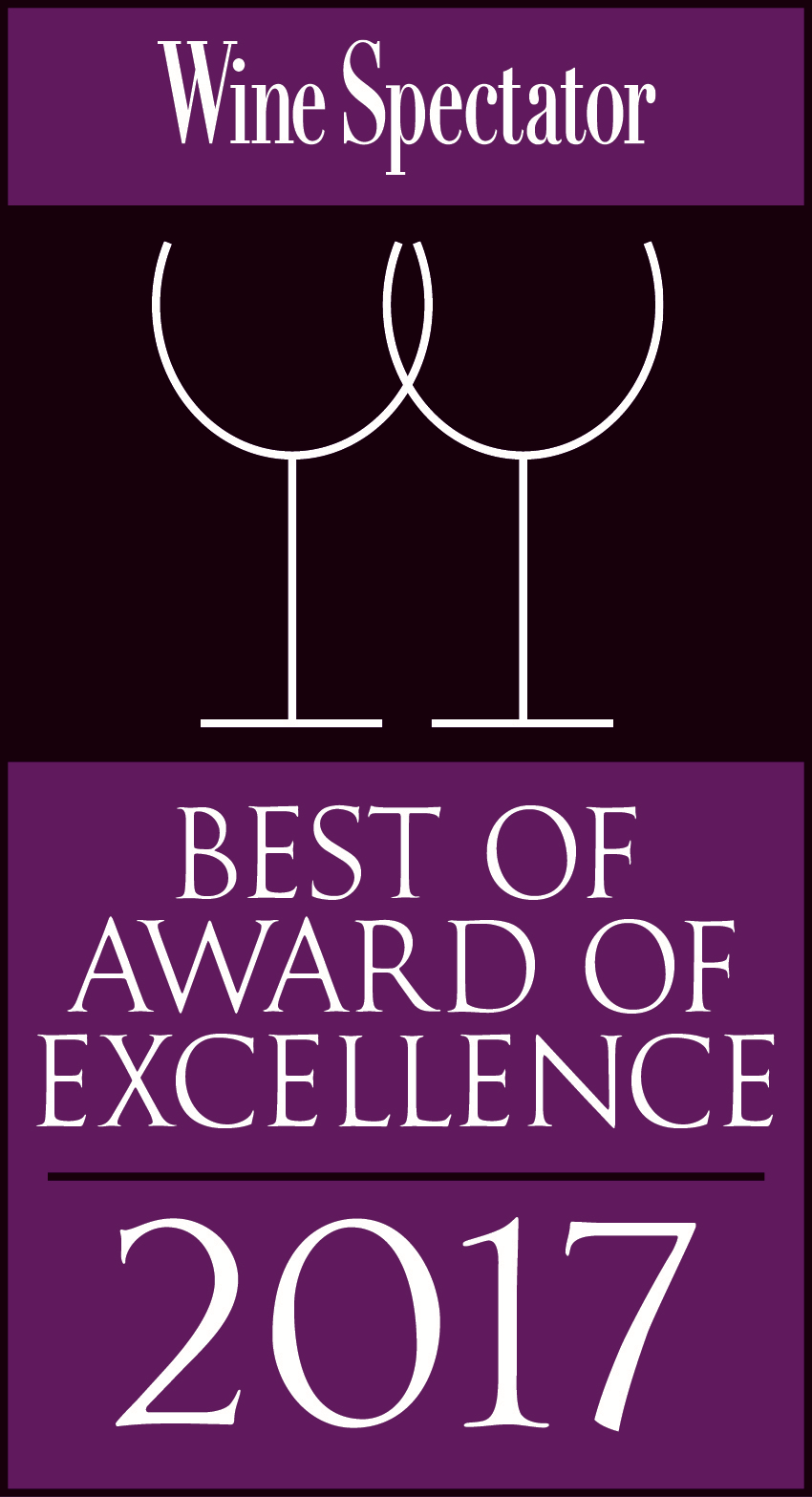 The award is given to restaurants that display excellent breadth across multiple wine-growing regions and/or significant vertical depth of top producers, along with superior presentation. Offering 350 or more selections, these restaurants are destinations for serious wine lovers, showing a deep commitment to wine, both in the cellar and through their service team.
---
Blu Pointe is 275 seat waterfront restaurant located in the heart of the historic and majestic Hudson River Valley. Our cuisine is a healthy collaboration of both Mediterranean and New England style preparations showcasing the finest, seasonal ingredients our area has to offer. The wine selections have been carefully chosen to harmoniously revolve around our elegant cuisine and our picturesque location. Our temperature controlled wine cellar is home to a wide range of wines from familiar producers to our eclectic, more exclusive private selections.
Each wine on our list was hand chosen specifically to enhance the food and wine experience for our guests. The majority of our more sophisticated whites pair perfectly with our fresh seafood. Our red wine selection provides cross-over versatility, with the deeper, more extracted styles from around the globe creating a perfect accompaniment for our rich, marbled USDA prime beef. Our Mediterranean style dishes are well complimented by our carefully knit Greek wine selection. We feature charcoal grilled whole fish that are paired with our crisp, complex variations of Assyrtiko. The extensive, diverse variety of red and white wines have brought those near and far in search of rare and pristine labels offered at valuable prices. The depth of local and New York labels have garnered appreciation from those who pride themselves in supporting local vineyards.
These desirable and high quality wines deserve nothing less than a perfect home. Our bottles are housed in a state-of-the-art temperature and humidity controlled wine cellar remaining at a constant fifty seven degrees Fahrenheit. This also provides a beautiful backdrop for the dining room and blue stone fireside lounge. Every guest is able to relish the luxurious view of the cellar providing a panoramic display of our 3,200 bottle collection. Each sip savored by our guests has been meticulously cared for, ensuring the most perfect conditions possible.
Having bottles available from respected producers is essential given our close proximity to New York City. We must carefully determine the best possible value for each listing while retaining the integrity of our wine program. Thorough consideration has made us confident that our pricing is appropriate for every option on our list. Included in our 388 bottle selections, we offer a variety of large format bottles in 1.5L, 3L, and 6L sizes. These are primarily featured during the holidays and for exclusive events hosted in our private dining room.
Our wine program consists of forty-six wines by the glass including dessert wines and eight of these designated to our Napa Valley Vintage System. This system preserves our bottles under neutral argon gas, allowing us to provide a flawless pour from our prestigious labels every time. Our inventory is controlled in five areas with the majority in our wine cellar. The remaining selections are held by a bin number system. We separate the temperature controlled rooms by white and red designations. Our white cooler houses all of our champagnes and white wines by the glass. The secondary wine room holds our more popular and volume purchased wines by the glass. All of our white and rosé wines are organized by numerical bin number in a third wine cooler, ensuring easy access to labels and vintages. Including all the locations, our inventory totals approximately 6,000 bottles.
Ultimately, our goal at Blu Pointe is to provide a surreal guest experience unlike anywhere else in the Hudson Valley. The food and wine experience at Blu Pointe balances savory cuisine, local craft beers, artisanal cocktails, and world renowned wines.
Thanks to the Bonura family and our general manager, Jeffrey Greene, I have been able to compose a list that brings a piece of me with it, as well as memories of my journeys through the beautiful wine growing regions of California.

I invite you to navigate our wine menu full of memories and treasures, and do not hesitate to ask me for any additional information you may need to further enhance your dining experience.
I look forward to making your special evening with us memorable.

John Chamorro
Wine Director